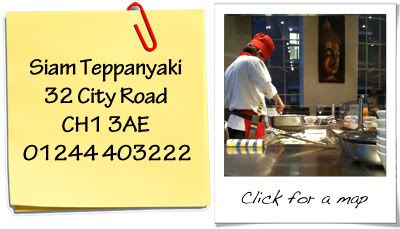 Welcome to the first review of 2011, after an extended Winter break that would make Messrs. Ferguson and Ancelotti happy, we're back to guide you through the ever changing landscape of Chester cuisine. That or finish reviewing the restaurants we missed out on last year! Chief amongst those was the award winning Siam Teppanyaki on City Road. Much lauded as one of, if not the finest restaurant in Chester, I was keen to sample the heady mix of epicurean entertainment that is Teppanyaki.
On a chilly night, after a poorly planned route through the city centre, we eventually arrived at Siam Teppanyaki's slightly out of town location. You'd be hard pressed to chance upon it unless you walked from the train station into the city. Nevertheless the building is very impressive, on the inside at least, a clean white hallway leading to a very open and airy modern restaurant. Siam Teppanyaki actually runs two distinct restaurants, the teppanyaki downstairs and a more traditional Thai restaurant with conventional seating upstairs. We were to be dining in the Teppanyaki style and despite my concerns about dining slightly early there were other guests already seated at the grill.
Teppanyaki for those who don't know means fried on a flat iron plate, the Teppan being the plate and yaki being the frying or grilling process. The fashion is to have the cooking done right in front of you in a suitably theatrical style. As such we sat around a grill which could seat 10 people, with more guests arriving throughout. The only flaw with this arrangement is that the dining table level is as high as the grill level, which was mid chest height! I would have preferred some high stools to perch on as they would have afforded a better view of the action too.
As we're choosing which dishes to order from the early sitter menu, £13.95 for 2 courses, we notice sauté potatoes already on the grill keeping warm, I'm unfortunately reminded of breakfast buffets on the Spanish Costas. We opt to pay additional supplements for all our dishes, Chicken Satay and Prawn Tempura to start, Fillet of Beef with Garlic and Chilli and a Duck Breast with Peppercorn Sauce to follow. As we sit back and watch another group's food being brought to the grill the chef wows us with a display of knife juggling akin to a cross between Tom Cruise in Cocktail and the West End show Stomp!
The entertainment continues as the chef spins and throws eggs around, catching one in his hat, much to the crowd's delight, before cracking a few onto the griddle to form the basis of the egg fried rice. The skills are no doubt impressive, on a quiet Tuesday night one can't help feel a little sorry for the chef as the atmosphere isn't quite that of a bustling Saturday evening. There's even a moment when a fellow diner is trying to relay their order to the waitress amidst a cacophony of noise from our knife twirling masterchef!
Our starters arrive in good time, complete with plenty of dipping sauces. The chicken satay is nice and moist and benefits from a gorgeously smooth satay sauce. The portion size is good too, probably one whole chicken breast split into five strips. The prawn tempura too fills the plate, especially due to the sheer voluptuousness of the batter. Good tempura is all about making it as light as you can and this is a work of genius, all the texture of fried batter with none of the greasy stodginess.
Once the previous party have been dealt with the chef asks how we'd like our meat cooked and makes a start on the grill. Basting with butter and turning frequently, chopping and slicing away until he's happy with the size and colour of the pieces. He spoons up some of the rice into little bowls and serves some saute potatoes and veg he's been preparing onto our plates. Finally he fries the accompanying garlic and chilies in a little oil before mixing with the pieces of fillet. He then pours some peppercorn sauce over the pieces of duck and tosses briefly to give them a good coating. It's unfortunate that our rice and potato has been sitting off the grill for a good few minutes before the meat arrives, surely the point of a large teppanyaki is that they can stay in a corner keeping warm until you're ready to plate up?
The flavours of both dishes are magnificent, a good piece of beef with large chunks of garlic and chopped chilli that explode in the mouth, the egg fried rice, potato and asparagus are equally delicious. The duck breast is beautifully pink and the peppercorn sauce that's not for the faint hearted is a powerful accompaniment. The only downside was that my beef, which I'd requested medium-rare was in fact medium-well. It still tasted great, but I'm left wondering how much better it would have been if it had arrived medium-rare. I suspect I had to wait an extra minute or so for the duck to cook properly and that was enough to overcook the chopped steak.
The food was washed down with a pint of Japanese lager for me and a blackcurrant and soda for the lady, we followed that with a shot of plum sake each in place of dessert. We settled the bill, which unfortunately paying by card didn't give me an opportunity to tip, and headed off home. As we walk away I'm sure I'll bring my family along to Siam Teppanyaki, my little brothers would be particularly impressed by the knife tossing and frequently setting the entire grill on fire! Having said that, despite the quality of the food it's not a place I'd consider visiting regularly. I guess that's a necessary downfall of teppanyaki, the more often you go the less wow factor you'd receive. I'll definitely take new people there, particularly for the early sitting. It's great that Chester has a place like this and from an entertainment point of view it's right up there with any dining experience I've had in Vegas! If you haven't been yet you must go, be prepared for £25-£30 a head but the entertainment will save you shelling out for the theatre or cinema afterwards, or it would if we had either of those in Chester!
Food 8
Service 9
Atmosphere 10
Overall 9