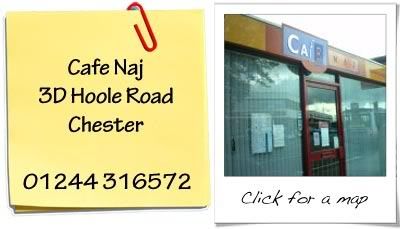 As temperatures plunge into the negative numbers it takes either a brave or stupid individual to go trekking out to dinner, I'll let you make your mind up which I am. Unperturbed I persuade my partner that despite eating out at two curry houses in the last fortnight, we make it a hat-trick and visit Cafe Naj on a Thursday to review their banquet night after a tip-off on twitter. (Feel free to make suggestions and recommendations to me on facebook or twitter, if you're passionate about a particular restaurant or dish I'd love to hear from you!)
We leave the house at around 6:30pm, anticipating that it will take me at least 20 minutes to walk down to the Hoole Bridge as I have a neurotic though perfectly rational fear of slipping on the ice. The cold winter air beats at our faces and we're hoping Cafe Naj is well heated so we can escape the freezing temperatures and be metaphorically transported to the cosy climate of Bombay or Dehli. Not even the smouldering ashes of The Chester Enterprise Centre which sadly burnt down the night before can warm us up as we cross the road to the restaurant.
Once through the door we're greeted and seated and begin to feel the warmth of the restaurant, unfortunately this is harshly interrupted as soon as the next person comes through the door. An icy wind pervades the entire restaurant and leads me to ponder the possibility of installing a porch for just such occasions. My partner elects to put her coat back on but my sense of etiquette prevents me from doing the same. A waiter mumbles something incoherently to me about the menus before leaving both the regular menu and the banquet menu on the table.
On a Thursday night at Cafe Naj you can feast on a starter, main course, side dish and either rice or naan bread for £7.95 a head, a truly remarkable price. We'd been tipped off but still expected to pay separately for rice and naan between us. We studied the menu and ordered some drinks, a lemonade for the lady and a pint of lager for me. It's amazing to see they have a draft here, and not just the one from the door. The restaurant itself is pretty tiny, I dare say bookings may occasionally be required, but the layout is clever, fitting in a well stocked bar with beer on tap, a fair few tables and all the usual facilities.
After much deliberation and with a cool pint in my hand I'm ready to order. I check with the waiter the difference between the Sheek and Shami kebabs and am told the Shami is hotter. After some relatively fiery kebabs last week in Birmingham I opt for the Sheek so I my tastebuds are still intact for the main course. I follow this with a Chicken Balti, while my partner chooses the Chicken Pakora and a Lamb Roghan Josh. We order a saag bhaji side dish and a bombay potatoes and finally a pilau rice and plain naan. The smells coming from the kitchen are quite sumptuous and hopefully provide a good sign of what's to come.
We don't have to wait long for our starters, which are nicely presented, especially for an Indian restaurant, even the compulsory side salad looks appetizing! We're ever so slightly disappointed though as the pakora are deep fried tandoori chicken pieces and my kebab is milder than mild, in fact you could take the kids here and probably not have to worry about them having their heads blown off. The taste is still nice but for seasoned curry aficionados like us they're a little bland.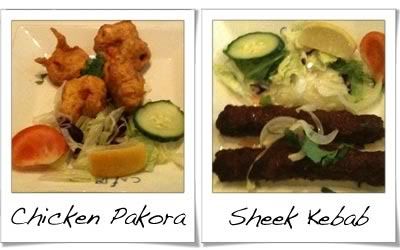 Our plates are cleared and as another customer enters we're once again transported back to the chilly North West. By this point I'm tempted to get my tools out the back of the van and build the bloody porch myself. (Incidentally it should be noted I have neither the tools and van, nor the proficiency to do any of the above.) I sup at my still impressively tasty pint of lager and remain optimistic about the curries coming next. The restaurant's getting more full now, a table of four take their seats beside us and I doubt they'll fit all the food on the table if they go for the banquet menu.
As the customary trolly is wheeled out of the kitchen we're positively salivating, a rather large balti dish is first out, laden with chunks of chicken and lashings of a rich red sauce. Quickly following are the Lamb Roghan Josh, two side dishes and our rice and naan. We tuck in immediately and sample a bit of everything on the table. The Saag Bhaji is a more traditional affair, served as a general accompaniment of veg rather than the floured and fried balls we're often used to. It's a little dissapointing, cooking that spinach in some ghee would have made it a much tastier affair. The Bombay potatoes are again very mild, so much so they're almost devoid of flavour. It's at this point I wonder whether the table behind us were wise ordering two Vindaloo.
The curries however are an altogether more delectable delight, nicely cooked chicken and lamb, rich deeply flavoured sauces, on the safe side of medium but still packing a nice punch. The rice is wonderfully fragrant and quite frankly the naan bread deserves an award. Given the sheer number of curry houses I've eaten in, from £5 to £25 per person, it really is saying something that this is head and shoulders above the rest. It's a huge soft fluffy pillow of a bread, I could just as easily have rested my weary head upon its divinely supple surfaces as I did devour it. The friendly smiling staff clear our table and bring us the bill, a few pennies over £20.
It was a most satisfying curry experience, slightly dampened no doubt by the quality of those that had come before in Edinburgh and Birmingham, but nonetheless well worth a trip. You may want to ask for your food to be a little hotter in the spice department, I wouldn't go as far as to order the vindaloo but I'm sure they can eke a little more out of the medium curries if you request it. On a Thursday night you won't find a cheaper curry and the rest of the week it's pretty damn affordable too. When the air isn't quite so cold and I've been curryless for a month or so, I'll definitely be making a return visit to Cafe Naj. Despite the trek out of town for those living the other side of Chester it's well worth a visit to Hoole, especially to get away from city centre curry prices.
Price: £10 per head
Star Dish: Naan bread (The best I've ever tasted)
Food 8
Service 9
Atmosphere 7
Overall 8