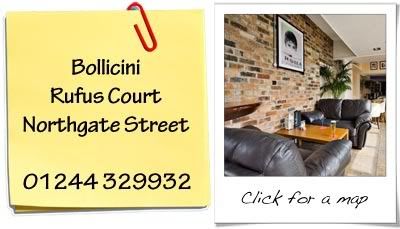 Review:
Since spending some time in Italy many years ago I've always been a fan of Italian cuisine, the freshest ingredients, simply cooked and with a dollop of Italian passion and flair thrown in for good measure. The trouble is it's so hard to find good Italian food back in the UK, so often the dishes I'm served in restaurants are more akin to my own attempts at Italian cooking than that those of the bustling streets of Sorrento. Bollicini in Chester has provided me with many a good lunch over the last few years so I had high hopes for the a la carte cuisine.
My partner and I booked a table for 2 on a Thursday evening, a rather special night in the Bollicini calendar as one can eat from the full a la carte menu at heavily reduced prices, including a free bottle of wine per person. Given the government's decision to try to enforce a cost per unit price for alcohol in supermarkets I feel that maybe this offer is a little insensitive to the UK binge drinking crisis! Nonetheless, when in Rome...
We settled at our table which confusingly was longer than it was wide and left us feeling a little far apart for an intimate dinner for two, luckily as the restaurant filled up and the wine flowed we felt more comfortable raising our voices. We made decisions on our food in record time, my partner opting for the bacon wrapped scallops followed by the spinach and ricotta ravioli, myself choosing the king prawns in a garlic and chilli sauce and then the fillet steak with dolcelatte cheese and port sauce.
Given the busy restaurant the service was pretty quick, testament to the little cooking needed for the freshest of ingredients. We knew we were in for a good night when we saw our starters arrive. My partners scallops were the very best one could source, perfectly adequate to be described on the menu as king scallops, extremely succulent and being wrapped in bacon avoided the need for additional seasoning. Similarly my king prawns were huge, bordering on langoustines, my only small complaint would be that sitting them in the hot sauce made them difficult to peel until they cooled a little, perhaps a dipping pot on the side would have proved more effective. The taste, however, was simply divine.
Our main courses followed a reasonable time after, timing is very important between courses but it's almost impossible to be specific, you just instinctively know when the next course arrives too early or too late. As my steak arrived I realised why they don't mention weights on the menu, it's clearly a case of we'll get the best looking steaks we can find rather than buy in by weight. My hunk of fillet wouldn't have looked out of place wrapped in pastry as a beef wellington for two. The size prevented it from realistically being cooked medium rare but luckily I don't mind it on the rare side, I might suggest the squeamish order slightly higher done than they usually request. As impressive as the size was, the texture was better, melting in the mouth as only the fillet can. Any lack of flavour in comparison to other cuts was easily compensated by the rich port sauce and dolcelatte cheese.
Before taking a bite of my rich steak my partner demanded I try a quick piece of the more delicate ravioli she'd ordered. Sometimes food is so heavenly it moves you, in the same way a piece of music or theatre sometimes can. For a split second all around you stops and you have to take a moment to compose yourself and re-engage with your surroundings. This ravioli was just that good, perfect textures, flavour combinations, ok it's a classic recipe but I've never tasted it executed this well.
We were still on our first bottle of red and decided to mull over a dessert to share while we let our senses recover from the delectable delicacies we'd devoured. The restaurant is now nicely busy and somehow has a different feel to a crowded French bistro across town. This is in no small part down to the fully Italian team of staff, by turning up to work each day they are simply adding accreditation to the authenticity of the food. After perusing for a good ten minutes we opted for the torta toscanella, an Italian pastry dish with orange chantilly cream and flaked chocolate on top. It proved an excellent way to round off the meal, quite refreshing and palate cleansing after the rich sauces we'd had up to that point.
We asked for the bill and collected up our glasses and the other bottle of wine to head out onto the heated balcony. When it arrived we've probably never been more shocked by a bill in all our lives, coming in at just over £40. I've had to pay a lot more for this quality of food before, I've certainly paid more for incredibly average meals before too. We settled up and chatted the night away on the terrace while trying to drink the rest of the wine but sadly failing with a quarter of the bottle left. Meantime we wholeheartedly agreed that this meal singlehandedly provided us with the best seafood in town, the best steak in town and the best pasta in town, no mean feat and not something I commit to writing lightly. It really was just that good.
Star Dish: Fillet Steak with Dolcelatte and Port Sauce
Price: £20-£25 per head
Second visit:
How quickly the mighty fall from grace, I wholly stand by the previous review, those dishes were just that good, but don't stray too far from that part of the menu! We went as a family of four last night and it was almost a disaster, the free bottle of wine offer translates to 1 soft drink for kids, I pleaded for 2 per child but no such luck. I ordered a lasagne starter which has changed from the recipe I had 6 months ago for lunch, no longer an interesting herb infused pesto nuanced recipe, just a plain old lasagne like Mum makes. I followed that with a pizza to test those, whilst deliciously thrown and stonebaked the topping of cheese, meatballs and fries, yes fries, was totally misguided and as dry as this reviewer's wit! The scores below reflect the first and second reviews and the adjusted overall score.
Food (10 + 6)/2 = 8
Service (9 + 7)/2 = 8
Atmosphere (10 + 8)/2 = 9
Overall 8